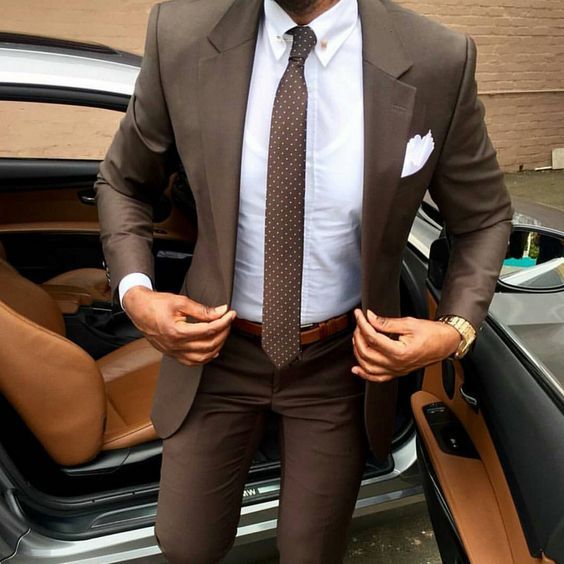 Ladies, have you ever gone on a date dressed in your best chic, yet casual attire with hopes of looking like someone who is a cut above the rest without trying to be? You look the part of the Hollywood "A-lister", making whatever you are wearing a fashion statement for all to admire but they are not really sure why? You put in the work to look like you haven't tried hard at all while still looking fabulous, but then your date picks you up wearing Jeans, tennis shoes and a button down shirt from the GAP that looks like it hasn't seen an iron in years. Well, the problem isn't his wardrobe, but more in the fact that you said yes to dinner.
Whether you are going to a fancy five star restaurant or charity dinner, or perhaps you and your date are more of the amusement park or "Ale House" type, there is an appropriate way to dress to not only be comfortable but also to say you are proud to be escorting this woman around town.  If you don't care about how you look or how people perceive you, what might that be saying about how you feel about the woman you are with? Isn't she worth just a little extra effort on your part?

Being fashion conscious is not always about knowing the latest trends or which designers are in vogue at the moment, it is also about knowing what the proper attire is for an occasion, or just for the sake of being aware of yourself on a day to day basis. How would you feel if the girl you were going to dinner with showed up with a blouse and a skirt that would look better on Tyler Perry's Madea? Perhaps you are going to a charity picnic at a church and your date is wearing clothes suggesting she is about to enter a Twerking contest at the local Gentleman's club. These clothing choices would seem to indicate something is not right.   Now switch the situation around and you can understand why women like a man who can dress himself properly.
The bottom line is that women like a fashion conscious man because it tells an awful lot about how men look at life.  If a man does not care enough to show a bit of self-respect, he surely is not going to go out of his way to respect the woman he is dating. Now this is not true in all cases of course, but a man needs to show pride in himself before he can be good for someone else.
It's just a small step. Dress neat and learn about what colors go with others.
The Internet is filled with information that will help a man learn how to make the most out his wardrobe. Even if money is tight, there are plenty of great deals that can be had at your local Goodwill or Consignment shop that can take you from very bleak to tres chic in no time. You just need to actually want to change your style, if not for you than for the woman who accompanies you.
Save
Save