Sugardaddie.com, an online Pot-o-Gold?
After only 4 months of marriage 26 year old Miami Native Gabi Grecko has decided to file for divorce from wealthy Australian businessman Geoffrey Edelsten, who at 72 years old is 46 years older than his soon to be former bride.
The pair met on the popular online dating site Sugardaddie.com which is well known for pairing up Affluent business men with attractive women seeking to enjoy an upscale lifestyle. The reasons for the divorce are varied amid accusations and counter accusations this stormy relationship seems to have run out of steam. Most recently Gabi has stated that she has met someone else and is intent on moving forward in her life..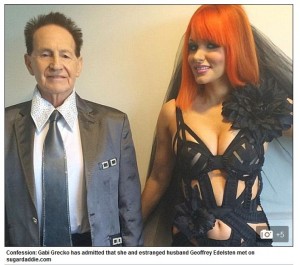 It would seem that Sugardaddie.com is as suggested, a place where Gorgeous women can find the road to a better lifestyle and perhaps larger bank account, as Edelsten has maintained that he has, in the short span of this romance spent over $1.5 million on his Sugar baby.
The marriage at least lasted longer than the pair's stint on the latest season of the reality television show "Celebrity Apprentice Australia" where Gabi lasted only 1 episode.