Women enjoy being wooed when taken out on a date. The wow factor for a first date is always impressive
Going out on a date is not as easy as it may appear to be, there is so much planning and thought that must go into such an endeavor that it can turn your brain into Jell-O. If it happens to be the very first date with an attractive young single woman the stakes are considerably higher and the pressure can be overwhelming. Its not enough any longer to merely pick up your date and take her for a pleasant evening of conversation and a nice meal, you now have to 'WOW' this person in order to set yourself apart from the rest of the dating world. If this woman is exceptionally attractive, she most certainly has seen her share of fine restaurants and night clubs and may be looking for something entirely different than what you, and probably the last 20 or 30 dates had thought; after all, she is still on the market, right?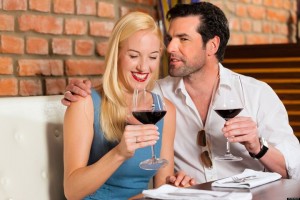 Women want to feel that they are special, and for that reason they would like to know that you think they are special as well. To distance yourself from the crowd you need to put new spins on old themes. If your area of the city has a nice park with a horse and buggy, you might consider packing a picnic basket and a cozy blanket for an evening of dining al fresco. The key to this date may also be in what you fill that picnic basket with. You will not make the object of your intended passion overflow with affection by whipping out a piece of fried chicken or a ham and cheese sandwich and a coke. Think instead of an epicurean meal, some brie or other gourmet cheeses, fresh fruit and a bottle of a vintage wine. Bring along an iPod with a speaker system and playlist of specially picked music just right for this occasion. Begin this relationship with memories that will last an eternity.
Think outside the box, be the person that this woman has been reading about in the magazines but has never met. It is truly amazing how a genuinely average looking gentleman can seem like George Clooney or Sean Connery by just being thoughtful and a bit different. If the Horse and buggy routine is not feasible, you may try other unique but accessible venues in your area. Perhaps there is a location nearby that specializes in dinner cruises or possibly gallery opening of an up and coming artist, combined with a stopover at an out of the way restaurant specializing in some international cuisine. Whatever entertainment you have in store for your date, make certain that the setting is conducive to talking, is romantic and will give her an idea of what may be in store for her if this relationship proceeds forward.
Finally, and probably most importantly, it is important to be honest with this person. Trying to impress her by overstating your wealth or education will always come back to bite you in the 'you know where' as at some point in the relationship the truth will come out. There is nothing more infuriating to a woman than being deceived, and honesty will always bring about the best results for the long term. If you follow these suggestions you might not only have the time of your life, but you may begin a relationship with endless possibilities