A quick guide to the do's and don't s for men when taking a women out on a date.
Benjamin Franklin claimed that the only certainty in life is death and taxes. While it's true there are no guarantees in life, there are things that do seem easier to control than others. Take personal relationships for example. You can choose to spend your life alone, as some people prefer, or you can make the decision to spend time with friends and possibly even meet someone you want to spend the rest of your life with. The ways and means by which you find a potential life partner are totally up to you; you may choose to actively seek a date through mutual acquaintances, through family, by hanging out at a local hotspot or by searching for someone online.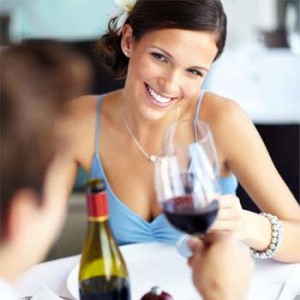 Once you find this 'mystery woman' that interests you and set up your date, keep your feet on the ground and remember Ben's wise words… there are no guarantees. There are things you can do, however, to give you the best possible chance at having a successful date. While some of these tips may seem logical, don't underestimate the power of The First Date… it can catch you unawares and send your mind in all different directions! Keep your feet on the ground and your head out of the clouds and you'll be fine, but following some of these other reminders may help too… First and foremost, don't be late! Women hate to wait, but then again, use common sense and don't show up a full hour early either. Allow for traffic and make sure you have her phone number with you in the event you are held up unexpectedly. If you are picking her up, wait to be asked inside if she is not ready upon your arrival. Women like their personal space and unless invited inside, it is best to suggest that you will wait outside or in the car, depending on the situation. When you are ready to leave, be sure to open her car door. This can be a deal breaker with some women; showing you have some sense of chivalry will be viewed as a very respectful gesture.
Hopefully you have arranged your date to take place at a venue that is conducive to talking and getting to know one another. While going to a movie can sound like a good idea, it's hard to have a meaningful conversation over the movie trivia quiz before the show. Whatever the setting, be a good listener; women typically love to talk and therefore want to know you are paying attention. Believe it or not, they will actually seemingly 'test you' later on to see if you were listening or not. If not, don't expect there will be a second date! Lastly, just be yourself and have fun. Just as you would not want to walk into your local home improvement store to purchase a new power tool that was expertly demonstrated by the in-store professional, only to get it home and find it was not what you thought, your date doesn't want to feel you were less than what you represented either. Some people click and some don't. One thing is certain… there are plenty of other people out there… THAT is a guarantee.